Some of the best marriage advice I ever received was from a woman I sat next to at a retreat. We had never met before, but were in the same small group. She was a quiet kind of woman, so when she spoke up, you knew it was because she had something important to say. The question posed to our group was "What would you say describes a happy marriage?" She paused a moment, and replied simply, "Don't ever quit being his girlfriend." Just six small words. After 25 years of marriage, I can tell you, there is incredible wisdom in her little sentence.
So how do we hang on to that gift of each other? How do you stay his girlfriend?
Many details have to work in coordination to keep the fire alive- some more complex than others. But sometimes, I think
it's the little acts of kindness that are most meaningful and not the grand gestures. Oftentimes, it can be as simple as having things in your home that, when you see them out of the corner of your eye, remind you of the love you feel for each other. Here are a few examples of what I mean.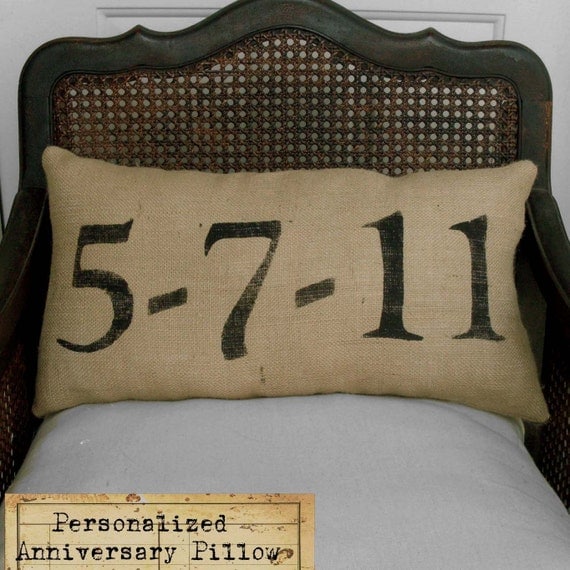 Remember the Day Burlap Pillow- This is a darling idea that is romantic without being frou-frou. Just pick any date that's significant to the two of you. It could be the date of your first kiss or when you got married or even the day you got matching tattoos. All that matters is when you see it, it reminds you of that special day.
This one is so witty and unexpected. The picture originally came from a post on the website hometalk.com. That DIY link isn't active anymore, but it doesn't seem like it would be too difficult to pull off. A quick run to Goodwill for a picture frame and 2 silver spoons; some spray paint and Liquid Nails to hold everything in place and you're good to go. Even Martha will be impressed with your skill when you're done.
Where It All Began Print- I love everything about this print. It would look great in an office, family room, or even the laundry room - it's that precious. Again, for those of you who are crafty, I don't think this would be too hard to do on your own. A little Mod Podge, a map and some lettering, and you're all set. Just send me a picture when you're done so I know who to ask to make one for me.
But let's make it even more effortless. This is one of my favorite ideas- a simple and sweet way to surprise anyone you adore. I found this on Pinterest and thought it was so clever. Just a few seconds with a Sharpie and you're done. Ingenious.
Last but not least, the ever popular "Leave a Note Where They Can Find It". I know this is nothing we haven't all heard before, but when was the last time you actually did it? My guess is it's been some time.
Your note doesn't have to be a Shakespearean sonnet, just something short and sweet to let them know you'd choose them all over again
. The one pictured above is my current favorite.
So there you have it. Just a few ideas from me to you. Nothing too complicated. Trust me when I say it's definitely worth it to stay his girlfriend- just don't get caught passing notes in class.