Slowly, but surely, most of the rooms in our new home are beginning to feel like they're almost "done". Some of these rooms have been harder to work with than others- Graham's office being one of them. There's been a spot in there that I've left blank for months because I haven't been quite sure what to put there. Thanks to Pinterest, though, I think I may have finally found the answer. It's what they call a card catalog cabinet. It's a chest of drawers that has that 1920's, Museum of Natural History, Indiana Jones kinda vibe that I'm loving right now. If that description didn't help you much, here's a picture of what I'm trying to say.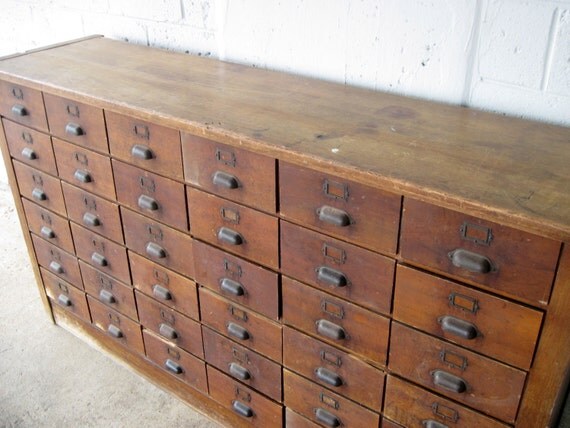 Isn't this incredible? I love how this piece of furniture strikes that magic balance of masculine and functional with beautiful. Unfortunately for me, it seems I'm not alone in loving this type of chest. I found this identical cabinet on etsy. It's definitely, exactly, what I want. It's also definitely, exactly what I can't afford. This cabinet, even though it needs work, would run me a cool $1600. That is nowhere near what I can spend when we have two kiddos in college. I was bemoaning this fact to Graham when he suggested we go check out our local ReStore shop. He thought we might have better luck finding something similar, but more affordable, there. Spoiler alert- he was right.
For those of you who may not have heard of a ReStore before, it's run by Habitat For Humanity and their

website describes it best :
ReStores are nonprofit home improvement stores and donation centers that sell new and gently used furniture, appliances, home accessories, building materials and more to the public at a fraction of the retail price.
ReStore sells whatever is donated as it comes in, so you never really know what they might have on hand. It's always an adventure. Case in point, look at the picture above. Yes, those are my boys standing on a forklift. And yes, it is for sale. Despite a strong effort on the boys' part to convince me otherwise, we did not bring this home with us. To say Graham (Version 2.0) was bummed out would be an understatement, because according to him,"every kid in the world would love one of these, Mom"
.
On this particular Saturday, here's some of the good stuff we saw. Tucked away in the lamp section, they had these brand new outdoor clocks that measured temperature and humidity. Very Restoration Hardware. Not a nick or scratch to be found anywhere but on the boxes. Even Wal-Mart couldn't compete with the price on these babies.
Back with all the construction supplies, they had this assortment of brand new LED light bulbs- every size you could imagine at a SERIOUS fraction of the cost. I think the most expensive one I saw was $3.00.
They also had about a dozen of these huge sliding pocket doors. I made Graham stand next to them so you could get an idea of how massive they were (Graham is 6'5"!). They were made of solid wood, weighed a ton, and they were gor-gee-ous. I must have stood there for more than 10 minutes trying to think of a reason to bring them home with me, but in the end, I had to leave them behind.
Another great find? These stacks of mirrors. Look at all these boxes- they still have the shrink wrap from the factory on them. They were round with a dark wood frame and about the size of a small breakfast table. $60 each- an absolute steal.
We were almost done walking through the store, when I happened to bump into this unassuming chest of drawers. Can you see what I saw, looking at it? Imagine this dresser stained a little darker, with card catalog handles instead of those wooden knobs. This could be exactly what I was looking for! It was in good shape -made of heavy, solid wood, with only a few bumps and scratches. That was the good news. But there was no price tag on it. That was not good news.
Enter this nice gentleman to save the day. His name is Terence. Not only did he track down the price for me, he also loaded that big chest of drawers onto this dolly and hauled it out to the parking lot for me. He and Graham (Version 1.0) were able to load it into our truck in no time flat. ReStore is lucky to have an employee like Terence, and that's the truth. He's an absolute keeper.
Keep an eye out for my upcoming DIY blog where I show you how I turned this dresser into the card catalog cabinet of my dreams. I promise it'll be coming soon and you won't be disappointed. As for the smoking pistol question- how much did I pay for that dresser? Was it worth the drive down to the ReStore? I guess I would have to say yes. After all, it only cost me $30.00.